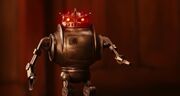 The Robot
is a secondary antagonist of
Zathura
.
The Robot is summoned by the card "Your Robot Is Defective". Its defect causes it to mistake Walter for a dangerous alien life-form that it is programmed to destroy. Following a chase while passing Tsouris-3, the Robot crashes into the basement, fatally damaging itself with its buzz-saw attachment. Its self-repair is accidentally triggered by Walter upon investigation of the Robot's limp body. The Robot is vital to the destruction of a Zorgon ship, after use of the "Reprogram" card. This act causes the second Zorgon ship to flee, only to return with a fleet of ships.
Portrayed by
Edit
John Alexander
Voiced by
Edit
Frank Oz
Ad blocker interference detected!
Wikia is a free-to-use site that makes money from advertising. We have a modified experience for viewers using ad blockers

Wikia is not accessible if you've made further modifications. Remove the custom ad blocker rule(s) and the page will load as expected.